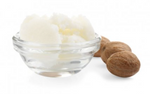 At 365 Body Love, we have dedicated our business with the goal of keeping our products 100% natural and free of harmful and synthetic chemicals. We do not use any stabilizers, fillers nor formulate our whipped body butters with any beeswax (not that beeswax cannot be vegan), we have decided not to include it in our formulation. As much, our creamy butters are packaged in glass jars and are very sensitive to temperature changes. In an effort to be transparent we wanted to share a few things.
During warmer temps, our body butters are prone to soften and may even melt in transit as they sit in mail trucks awaiting your mailbox delivery. In efforts of providing efficient and protective packaging, body butters do not always make their way to your mailbox in perfect condition - warmer temps will not let them be great! Melting is a natural reaction to heat and we have no control over the conditions during transit or delivery. We thoroughly inspect all products and ensure all orders are 100% satisfactory before they are packaged and shipped.
So here is a tiny inside scoop to our whipped butters. When we whip our body butters, during the whipping process tiny air bubbles are created which increases the size of the butter, lightening the density and ultimately creating an airy and fluffy texture - lending itself to be called whipped body butter. If this butter is then melted during transit or hotter temps, those air bubbles are collapsed, volume decreased and ultimately your once filled jar is now melted with less volume in the container appearing to be look half full.
Should you decide to order body butters and receive one less airy (melted) place your butter in the refrigerator and allow to harden. This will not change the quality of your butter only the appearance, but will still be an amazing moisturizer. If you choose to, feel free to whip it back to an airy stage.
In previous years, we whipped up batches of body butters even in the midst of the summer months and many of you were happy even if your butter arrived a little looser than normal.  Well, like many businesses we too, have been hit with delayed shipping and lengthly deliveries from USPS. We cannot guarantee that during this COVID19 pandemic that your butters will not be delayed due to limited USPS delivery services.  We ship USPS Priority 1 and 2 Day, however have seen some of our customers get their orders 1+ week later due to COVID19.
We understand that you all truly love our butters and we love that about our 365 Tribers, but unfortunately, until we can figure out a inexpensive way to ship to you without having to increase the cost we have decided to not make butters at this time (during this summer season only). Should things change, we definitely we notify you all, until then thank you for supporting us here at 365 and for making us your favorite skincare business.
If you have any questions or concerns please send us an email 365bodylove@gmail.com